Learn more about our funded partner, HACAP, and how their variety of programs make a difference in our community.
For more than 100 years, United Way of East Central Iowa (UWECI) has been working to break the cycle of poverty. From education to financial stability to health, we work alongside our funded partners to bring lasting change to our community.
This year we've had the pleasure of sitting down with a number of our funded community partners and learn more about their organizations and the services they provide. One that provides programs that align with every one of our focus areas is Hawkeye Area Community Action Program (HACAP).
HACAP's mission is to help people develop the skills necessary to become successful and to build strong communities. They've been doing so since 1965, and the impact they've had on East Central Iowa is incomparable.
Each year, HACAP serves about 50,000 people through their five main initiatives:
In total, HACAP has 30 programs, all of which work to support their initiatives. They also focus on "wrapping services" around as many clients as they can.
"If we have a client that is receiving one service, we try to get them involved in utilizing as many of our programs as possible that could benefit them," said HACAP's Regional Housing Director, Heather Harney.
One example Harney gave was their year-round Backpack Program. "If a child is being sent home with a backpack full of food every weekend, we try to figure out if their family could benefit from any other services we offer."
And if they don't offer the services their family needs, they're referring to other area nonprofits who specialize in those areas.
"Everyone has different needs and progress is different for everyone," said Harney. "Instead of telling someone what they need or what it should look like, we let them share with us how they think they could benefit."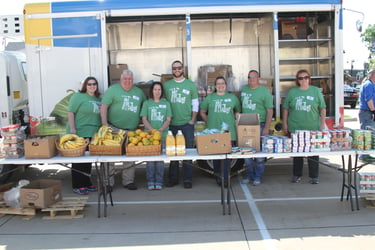 A unique program HACAP provides is the Mobile Food Pantry, which spends most days visiting rural communities in East Central Iowa to help bridge the gap between food accessibility—more than 31,000 individuals in East Central Iowa are food insecure, meaning they lack stable access to affordable, healthy, and culturally-appropriate food.
"[The Mobile Food Pantry] came about because we were discovering there were food deserts in areas that don't really have capacity to build a full food pantry," said HACAP's Communication and Volunteer Manager, Chris Ackman. "Some people don't have the means to get to a pantry in a neighboring city and we wanted to make sure they had access to food."
Each year, HACAP has more than 2,000 volunteers helping them make our community stronger. With the new school year around the corner, they're always looking for more helping hands—you can learn about volunteering with HACAP here.