Learn more about The Arc of East Central Iowa, a UWECI funded partner and leader in assisting families whose members experience disabilities.
U
n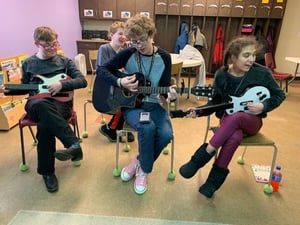 ited Way of East Central Iowa (UWECI)
funded partners
are integral to the populations they serve: our neighbors, friends and family. This month we introduce you to
The Arc of East Central Iowa
(The Arc), whose work to empower and engage persons with intellectual and related disabilities has happened on for decades.
The heart of The Arc's mission is to help people in our community, like Shawn.
"I work at the Kernels' Stadium. I clean, mop, and pick up trash. I like everything about my job and my boss Joe and the people I work with. The Arc helped me a lot to get my job. But I've got the hang of it now and don't need help on my job [anymore]."
The families in The Arc's seven county service area receive access to high-quality programs that not only improve their quality of life but help them engage their loved o nes in lifelong independence activities. These programs include:
"It's really important to have people understand that many of our services allow families to stay intact, allow individuals with disabilities to stay at home, allow moms, dads, and caregivers to continue to work. This alleviates the stress of not having to rely on Federal or State reimbursements because they don't have anyone to care for their loved ones while working," said Anne Armknecht, Executive Director.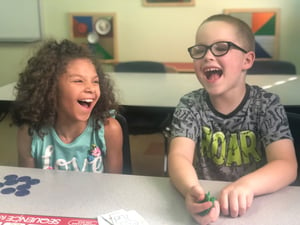 One of these programs, the Day Habilitation and Community Inclusion Program, offers volunteer services every week at 20 different sites. Last year alone, The Arc's clients provided 7,181 hours of volunteer service. Services can be anything from delivering meals, helping at the library, or baking cakes. RED Ahead, a program funded by UWECI, hosts The Arc clients who volunteer to help stuff envelopes for the program's monthly mailings for its families.
"Thanks to UWECI funding, we are able to connect families with resources. Many families don't know where to turn and we want to be there for them to assist in any way we can, including leading them to other organizations when needed," said Jody Bridgewater, Director of Services and Supports.
You may also know The Arc through their annual fundraiser at Cedar Rapids' Lindale Mall, Wrapping for a Cause. All proceeds from this volunteer activity go toward The Arc's programming. This fundraiser can help you check off at least one task on your holiday checklist.
Learn more about The Arc of East Central Iowa on their newly updated website, thanks to this year's Geonetric Operation Overnight.