Strategic planning, advocacy, & public engagement—see how the first half of BOLD went.The '18-'19 Board Orientation & Leadership Development (BOLD) inaugural class came together for the first time this October. The room was filled with eagerness, excitement, and a touch of nerves as Nate Klein, Vice President for Student Success at Mount Mercy University and Board President of the Catherine McAuley Center, kicked off the session with an encouraging and fun welcome.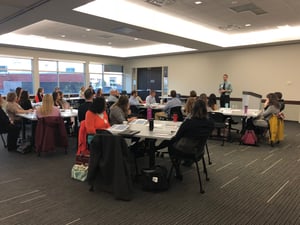 "I was excited about the first session, but wasn't sure what to expect," said BOLD member, Emily Wright.
A variety of feelings swept across the class, ranging anywhere from nervous and hopeful to excited to network and ready to make an impact on the community. The nerves subsided quickly, though, as everyone settled in via ice breakers, interactive presentations, and opportunities to network.
"I really enjoyed the energy each speaker brought to our first sessions, and their stories helped paint a picture of what to expect in a role I hope to one day achieve," said BOLD member, Paul Gaylord. "It has been a lot of fun and much more interactive than I expected!"
The first session eased into the program with topics such as board basics, working with nonprofit management, and simply getting to know one another. The group wrapped up 2018 diving deeper into areas such as board governance, strategic planning, advocacy, and public engagement.
"I'm really excited by the energy and ideas of others in the group," said BOLD member, Michelle Gruis. "I am hopeful that through this process I'll obtain skills, ideas, and relationships that will help me know what to expect before taking a leap into board involvement."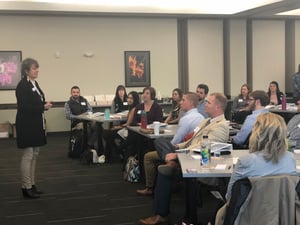 Some BOLD members have only dabbled in nonprofit work while others work full time at agencies in our community, but both are hoping to broaden their experience.
"I have been wanting to get more involved in the community, but wasn't quite sure how," said BOLD member, Brittany Appleton. Appleton is the Event & Volunteer Coordinator at Waypoint—a United Way of East Central Iowa (UWECI) funded partner. "I think serving on a board will allow me to give back to the community in a new capacity, but also allow me to better support Waypoint's board."
Even with different expectations and different goals, the group is almost unanimous on how the first few sessions went.
"I'm still excited about what's to come. It's going to be very beneficial," said BOLD member, Jessica Pfeiffer.
BOLD member Korey Grow feels similarly. "I'm very satisfied with how the first sessions went. I'm looking forward to continually meeting with, getting to know, and learning from positive leaders in the community."
The BOLD series of workshops is a partnership with UWECI, Employee Resource Group Consortium (ERGC), Greater Cedar Rapids Community Foundation (GCRCF) and ImpactCR.