Calling all volunteers for the upcoming VITA 2022 tax season!
Help individuals and families accurately complete their taxes by volunteering as a greeter, intake specialist or tax preparer.
VITA (Volunteer Income Tax Assistance) is a program sponsored by the IRS that benefits individuals and families in Eastern Iowa with an annual income less than $60,000. VITA increases the accuracy of tax returns to maximize the refunds received, such as the Earned Income Credit and the Child Tax Credit.
Volunteers who want to make sure everyone feels welcome when they arrive for their appointment can serve as a greeter. This position checks clients in as they arrive and makes sure they are adequately prepared for their appointment. Training to become a greeter includes a one-hour session and a ten-question ethics quiz.
If you are someone who prefers to focus on the details, volunteer as a tax preparer. This position prepares taxes with a team, no financial background needed. Thorough training will ensure you are ready to pass the IRS Tax Preparer Certification prior to volunteering. Training includes 10-12 hours of training sessions and a ten-question ethics quiz. Another benefit is that tax preparer volunteers will be able to complete taxes for their friends and family.
For those that want a bit of both, volunteer as an intake specialist. This position meets with clients and discusses their tax questions so that tax preparers can complete the clients' tax returns, no financial background needed. Training includes 10-12 hours of training sessions and a ten-question ethics quiz.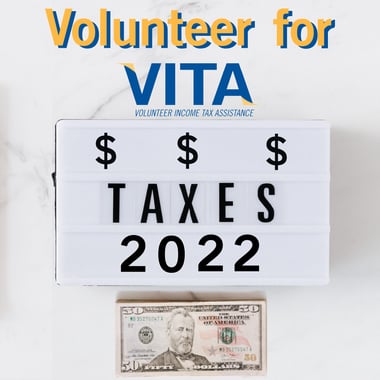 These volunteer opportunities are flexible to fit with your lifestyle. Volunteers with VITA can serve in Cedar, Jones or Linn counties or the Cedar Rapids metro area. Shifts last 3-4 hours and take place weekdays, evenings and Saturdays from the end of January through early April. To show our appreciation for everyone's hard work, all volunteers are invited to a celebration dinner at the end of the season.
Make a difference for Eastern Iowa by volunteering V.I.A. United Way!
To volunteer, email Meredith Hershner at Meredith.Hershner@uweci.org.