Read how preparing for board service impacted a local young professional.
Since its start in 2018, Board Orientation and Leadership Development (BOLD) has provided over 50 young professionals with the skills and responsibilities needed to serve on a board or committee in our area. Many of these graduates have found placements on a board or committee in Eastern Iowa, and all of them have increased passion and a desire to make our community a better place through board service.
We sat down with Meryn Fluker, a 2018 BOLD graduate from Transamerica and a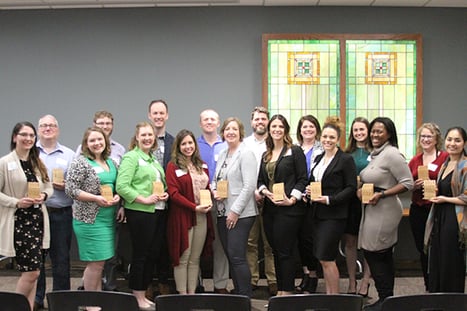 member of the BOLD planning committee, to hear more about her experience with the program and how she hopes it expands in the years to come.
What is your perception/view of BOLD now, compared to how you viewed BOLD when you went through the program?
My perception of BOLD has not really changed, to be honest. My appreciation, however, has only grown. Being on the planning committee has allowed me to see just how much work and thought goes into every aspect of it, and how everyone behind the program is so focused on providing the most robust experience for the participants. I kind of assumed that was the case when I was going through BOLD, but this new perspective allows me to really see the depth of everyone's commitment to the participants.
If you could describe BOLD in 5 words, what words or phrase would you choose, and why?
"Vitally important for board members."
There are so many things I didn't know about serving on a board, and now that I'm on a board, at almost every meeting I actively use something I learned through BOLD. I have actually had moments after board meetings where I pause and say, "Wow, I'm really glad we covered this during BOLD." The program is just so comprehensive. The conversations and activities really help you retain the information, making it that much easier to apply in real life.
How do you see BOLD growing and expanding in the years to come?
Despite dedicated outreach efforts and a stated commitment to inclusion, we've struggled to attract and recruit classes that truly reflect the diversity present in east central Iowa. First and foremost, it's my hope that we can bolster representation of traditionally marginalized groups in BOLD's future classes. I'm glad to know I'm not alone in pursuit of that goal. I also see BOLD expanding to create connections with more nonprofits and companies in the community. Strengthening those relationships will broaden our reach, allow more people to be part of this program and get more out of it.
If someone was uncertain or on the fence on whether or not to apply for BOLD, what advice would you give them?
I would tell them to apply because even through writing the application, you can learn so much about yourself and your philosophy around board membership and nonprofit service. That process, combined with the initial Get on Board event, can really help clarify whether BOLD is right for you at this time. And I'd encourage them to talk to me or anyone else who has been through BOLD, to get a sense of the commitment and also what they'll get out of the program. I'm of the (obviously biased) opinion that anyone interested in board service -- whether currently on a board or not -- can learn a lot through BOLD if they have the ability to participate.